Seth and Cecelia were married on Friday, June 16, 2023, the Solemnity of the Most Sacred Heart of Jesus; a very intentional choice by the couple. They were married at Holy Angels Catholic Church in Basehor, Kansas, where Cecelia had been teaching. Every choice that they made about their wedding from the rosary Cecelia carried in her bouquet (a borrowed keepsake of her mother's) to consecrating themselves to the Sacred Heart of Jesus was purposeful and meaningful. They ended their evening with a super fun reception at The Thompson Barn in Lenexa, Kansas. It was truly a blessing to be able to witness and capture such a beautiful day for such a lovely couple.
A few vendor shout-outs

Ceremony: Holy Angels Catholic Church, Basehor, Kansas
Reception: The Thompson Barn, Lenexa, Kansas
Dress: True Society by Belle Vogue Bridal
Tuxes: Men's Wearhouse
Flowers: Hyvee
DJ: DJ Kirby
Catering: Hyvee
Cake: Hyvee
Decor: Hobby Lobby & Etsy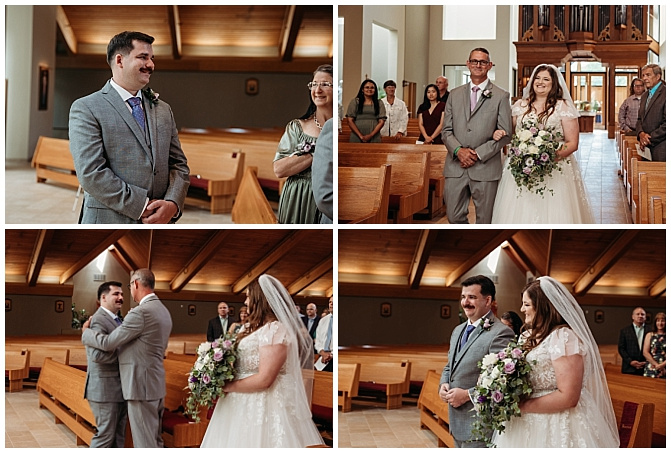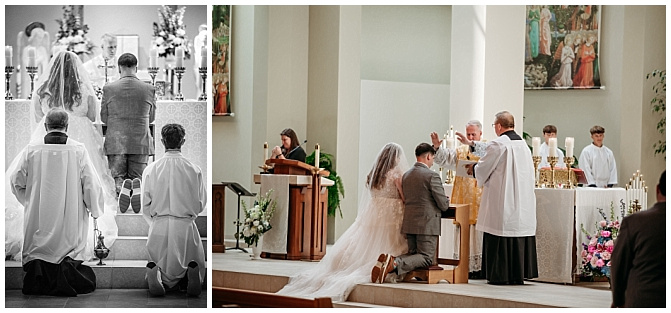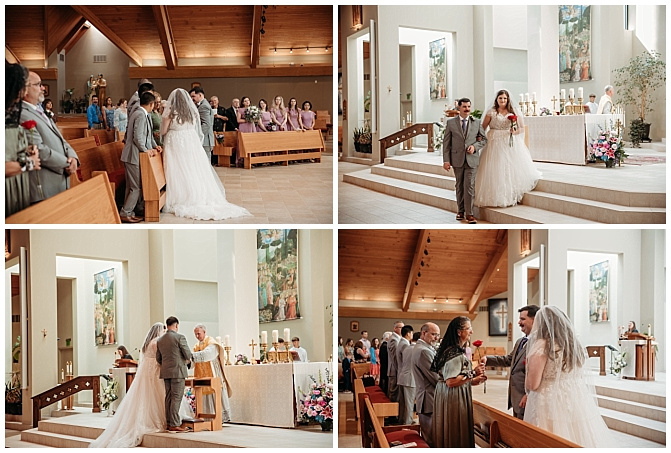 "Oh, look, make sure you capture that light," Father McDonald said as we were posing Seth and Cecelia in the sweet adoration chapel. The light. The most perfect light shining through the beautiful stained glass windows onto the feet of the new husband and wife.
John 8:12 says, "I am the light of the world. Whoever follows me will never walk in darkness but will have the light of life."
Much like the colorful light beaming in on Seth and Cecelia's feet serves as a physical reminder of Christ's love and promises for us, their vow to join hands in Holy Matrimony conveys that same love and promise. A promise that they will never have to walk alone in the darkness.
"Make sure you get that light." The light of the world. Many prayers for Seth and Cecelia; that they may always feel the warmth of Christ's light on their marriage.
// my editing on these images is a little more moody and romantic than normal. It was done intentionally to show the depth of Christ's love for us and the romance he seeks in our lives.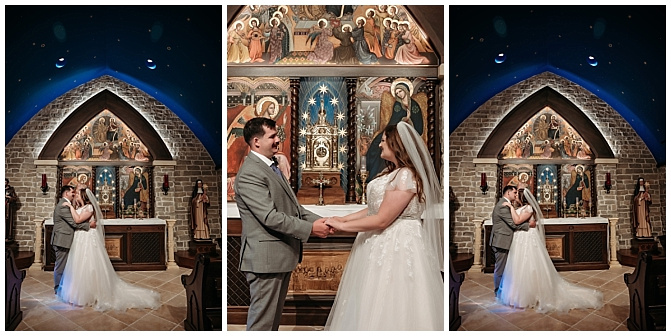 DJ Kirby kept the party poppin'! I can't recommend him enough!